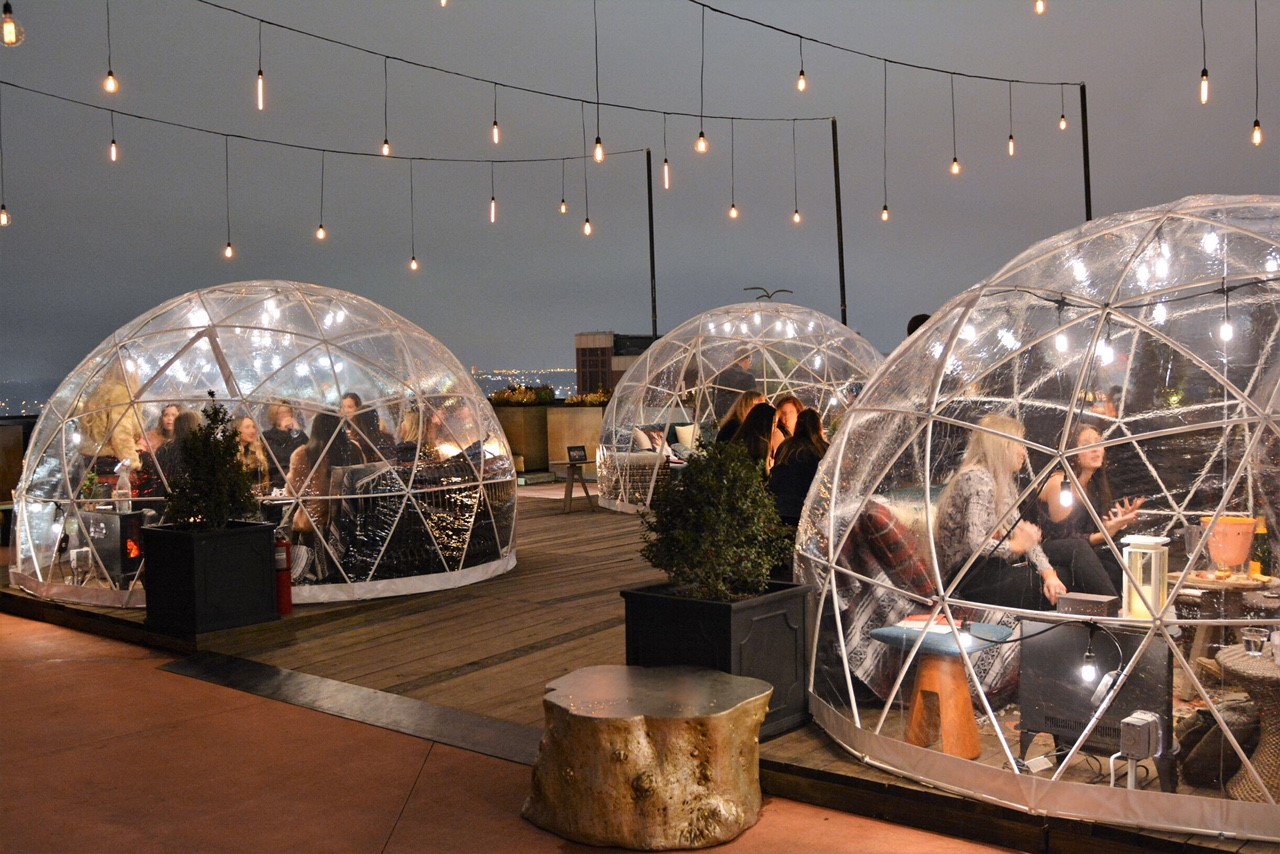 I might just have to give myself the wife of the year award.  Boy, did I win some extra "massage by the husband" minutes when I came up with this gift for Christmas!  I mean, what was I going to get a man that doesn't ask for much, and has everything he could possibly want?  It took me a while, but I finally came up with the best surprise!  A staycation!  That's right.  The one thing we don't get enough of………time together alone.   I knew it was exactly what he (and we) needed.  With a hustle and bustle lifestyle…6 kids in total, 2 dogs, and our work, we never have time for just the two of us.  Therefore, I was immediately sold on my idea, and set out to plan a "Nashville on our terms" stay-cation.
Considering we have traveled a lot together, all over the country, and to many parts of the world,  I wanted the hotel I chose to not only be nice, but also an experience.  I had recently seen pictures of a hotel with igloos on top of the roof with the city skyline as a backdrop, tagged Bobby Hotel, and it looked amazing.  I didn't know much about it, other than that.  I checked out their website which looked pretty unique with lots of color and eye catching, unusual décor.  It appeared to fit the experience requirement, so, I booked a weekend and it was exactly what I envisioned…..nice, and nothing short of an experience, especially visually.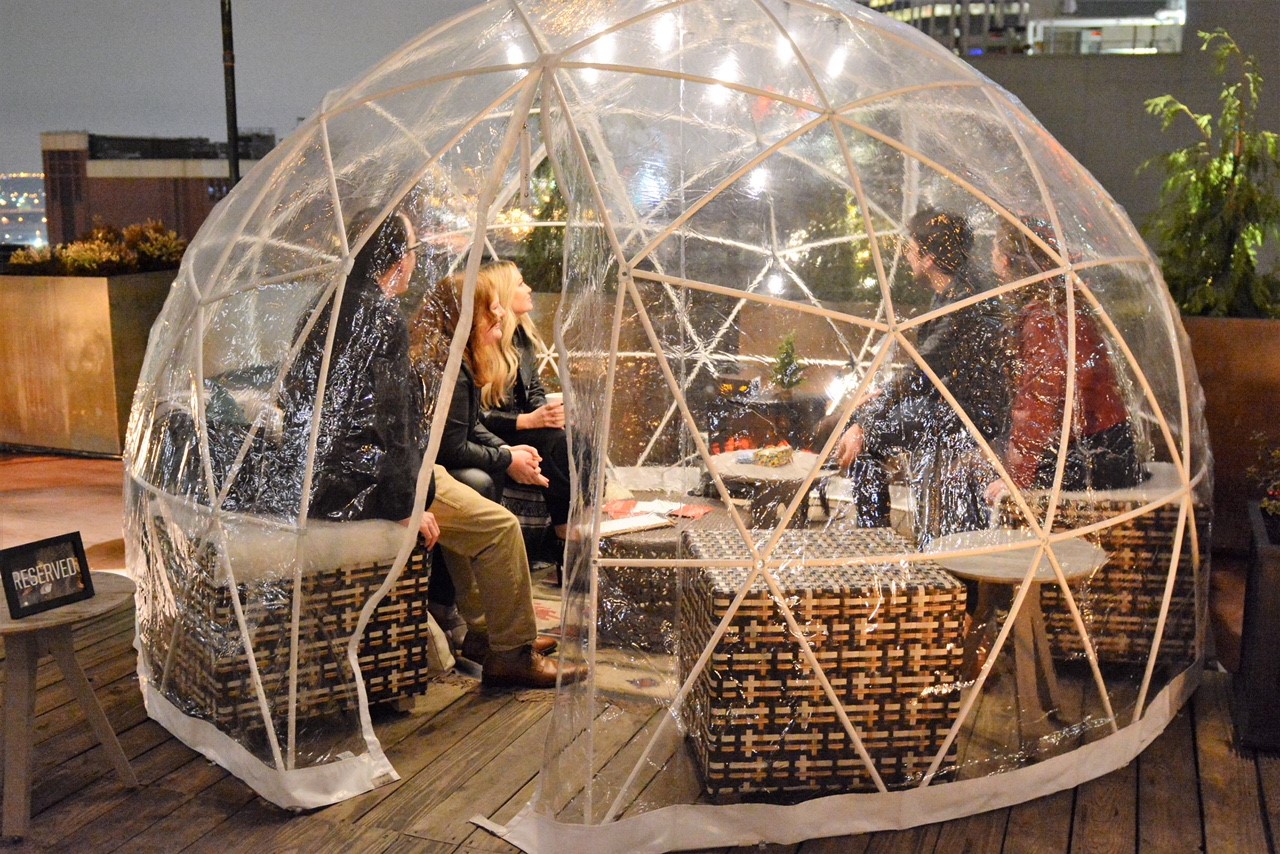 My favorite part…..the igloos (aka. Rooftop Lounge).  What an ambiance, and the food was fantastic.  It's a private hors d'oeuvres and drink experience.  If you visit,  be sure to get the spiked apple cider, or the spiked hot chocolate.  These drinks were perfect for the cold weather and the cozy feeling of being inside that pretty darn neat dome.  The igloos seat up to 10, and there is a food and beverage minimum, so you'll want to book a group in order to make the cost work.  Pipe in your own music from your phone using the blue tooth speaker in your igloo, zip up the igloo for privacy, and enjoy a 3 hour stay.
The rest of the hotel is one big eye catching, eclectic, colorful, modern, hip, design space with a huge Nashville flair in much of the artwork and custom pieces.  Everywhere you look, there is something unique, be it a piece of furniture, a custom light, or a wall finish, starting with the lobby and the great little cafe where we spent both mornings sipping on coffee and admiring the mosaic tiled floor.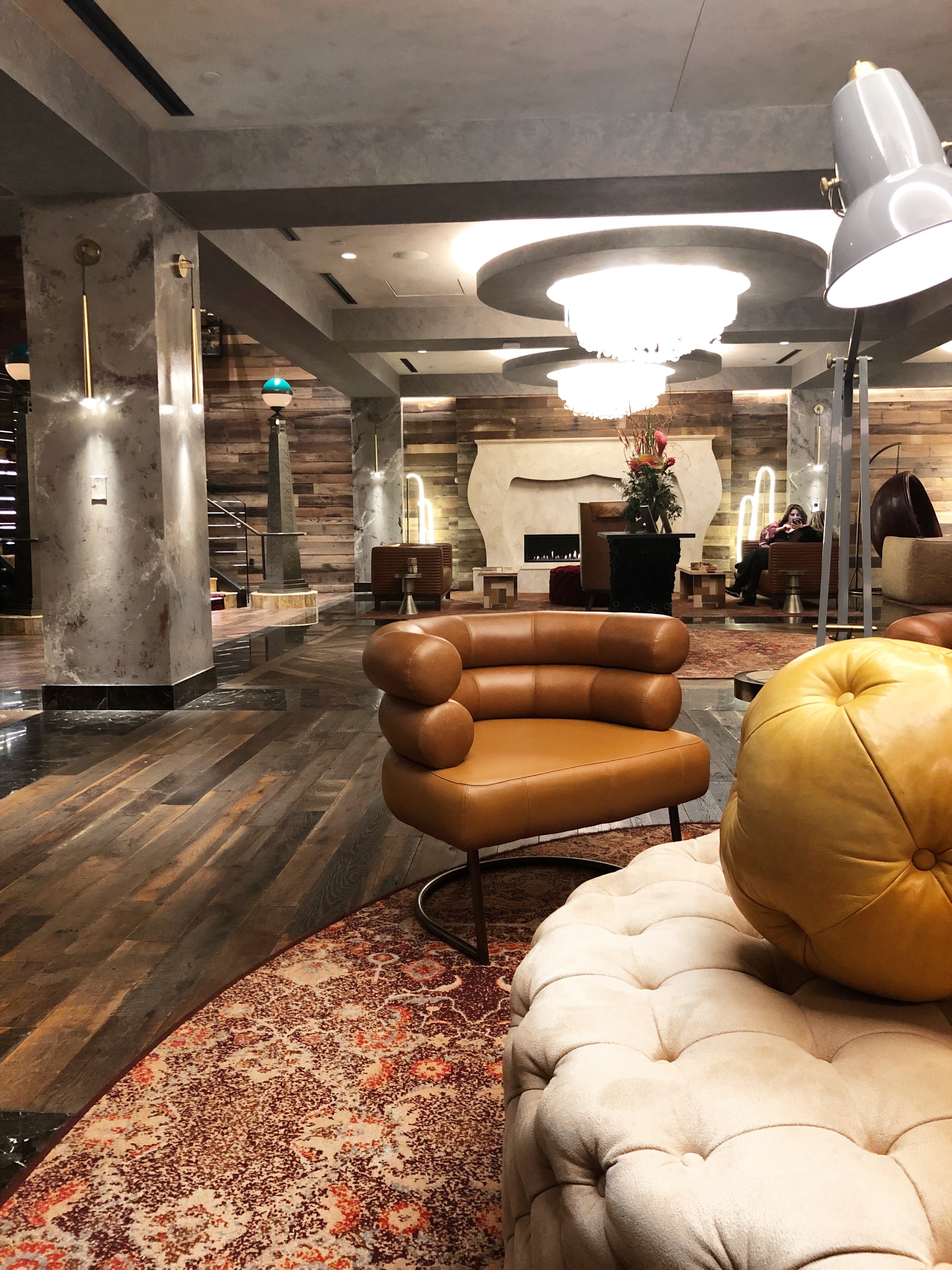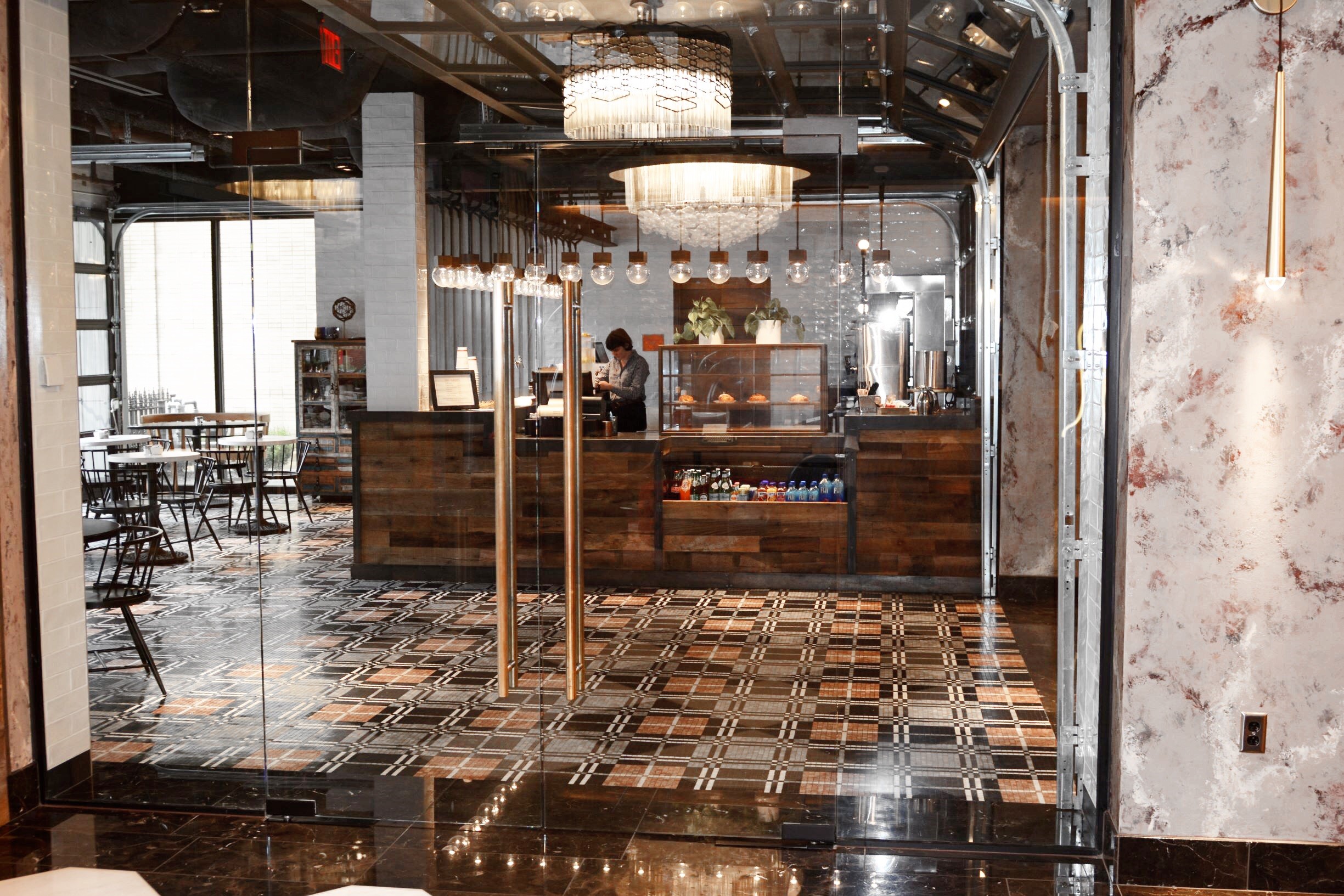 And look at this crazy, gorgeous chandelier leading into the hotel restaurant, The Tavern.  Yes, those are chrome hubcaps, steering wheels, automobile bumpers  and hoods hanging among the crystals.  The restaurant bar greets you immediately beyond the chandelier, and beyond that is a lounge area, complete with couches and dining tables, which functions to marry the restaurant and bar areas for relaxed conversation while enjoying drinks and the full menu.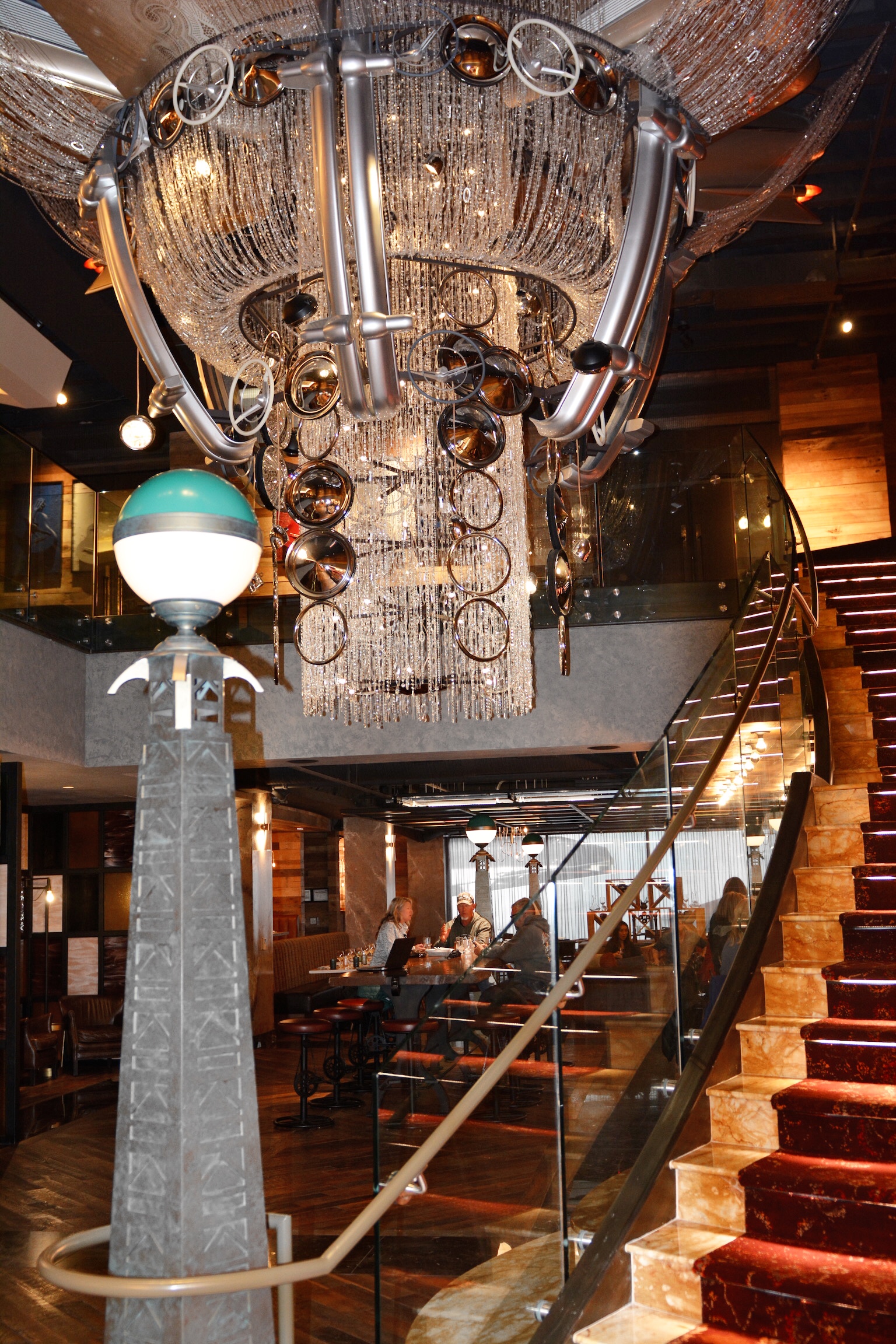 What about the rooms, Bethany?  This girl went all out and rented a suite.  I mean…..why not?  It was Christmas.  The suite was definitely different than anything we had stayed in before, with some pretty crazy, fun decor, and a serious 70's vibe…..record player and all.   It was very large (and I didn't rent the largest they offer), and stayed consistent with the eclectic and unique theme showcased throughout the rest of the hotel.  But, I wasn't sure about those zebra eyes peering over us in the bedroom.  Mr. Zebra took some getting use to.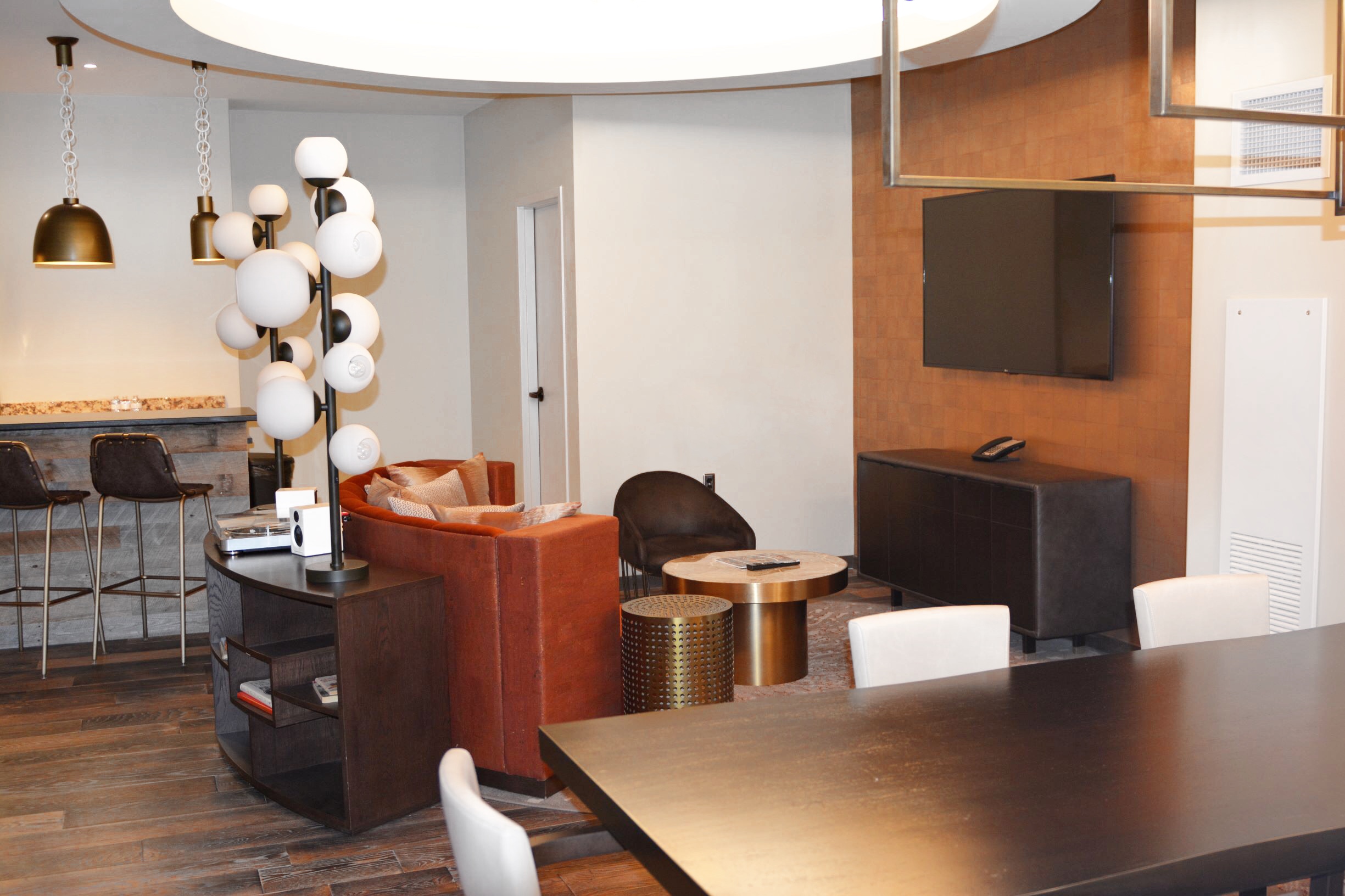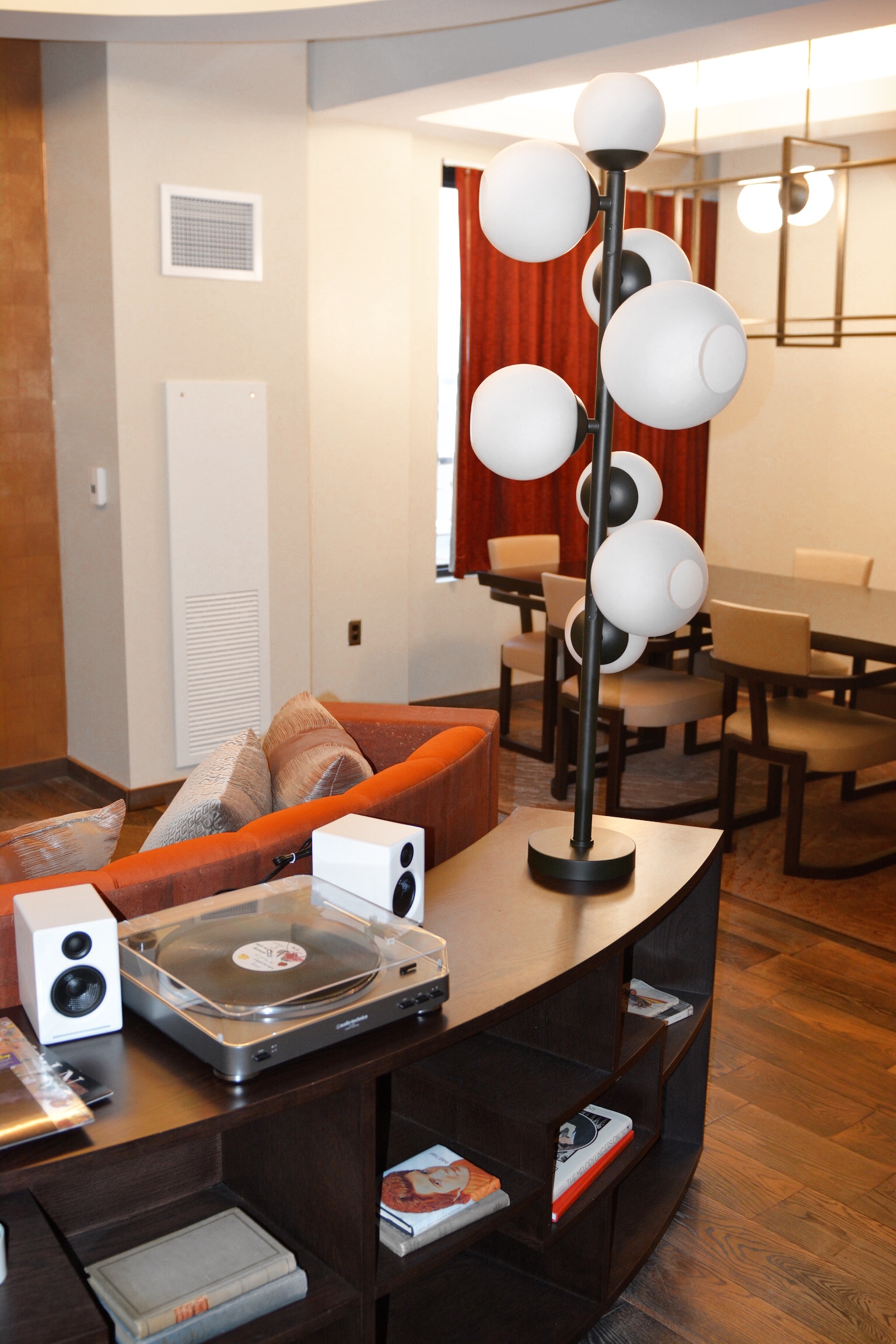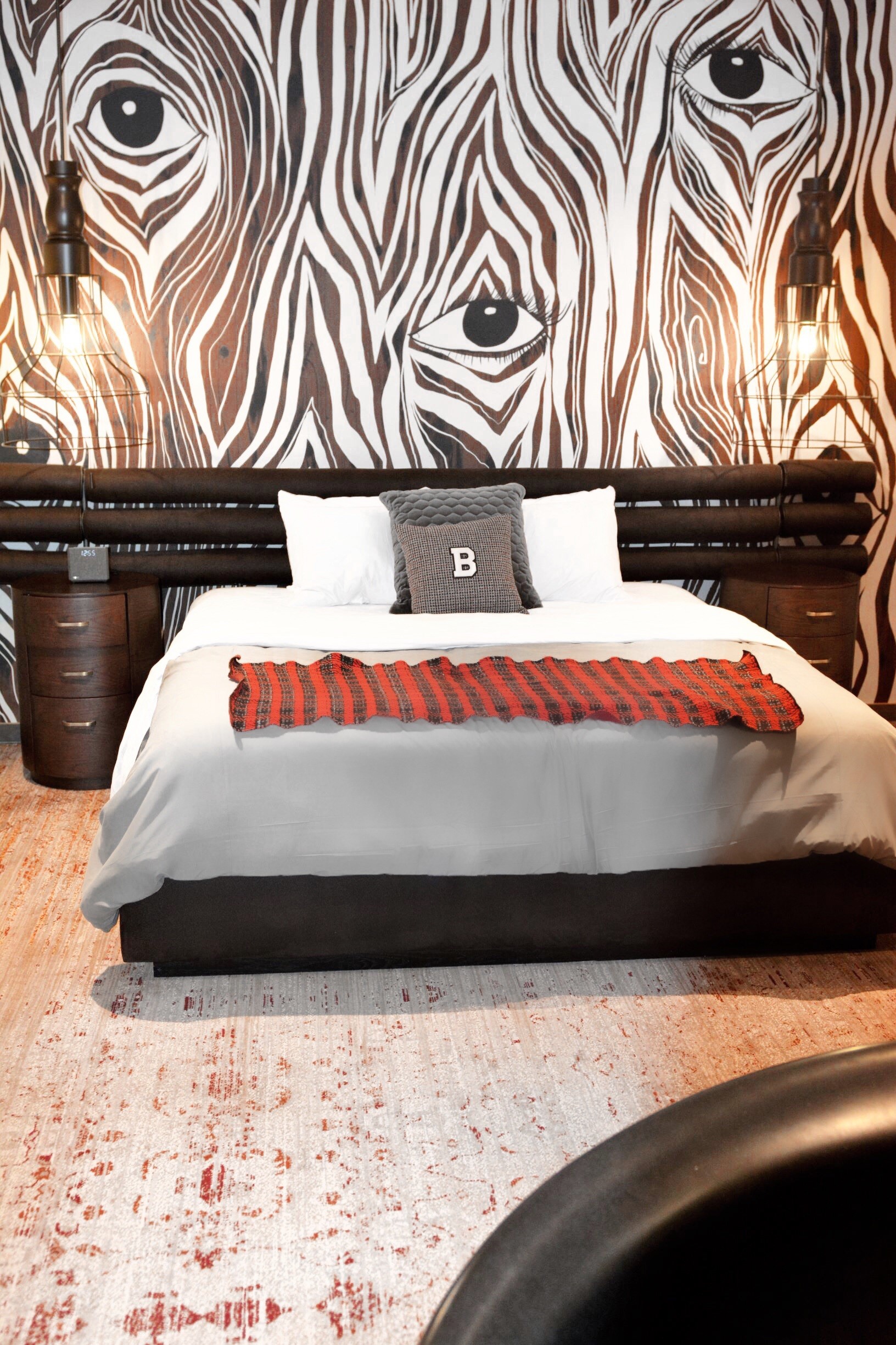 ---
 WHAT TO WEAR
(on your stay-cation or vacation in Nashville)
DAY ONE

---
DAY TWO

---
DAY THREE

BYLYLY- Bethany Sharp