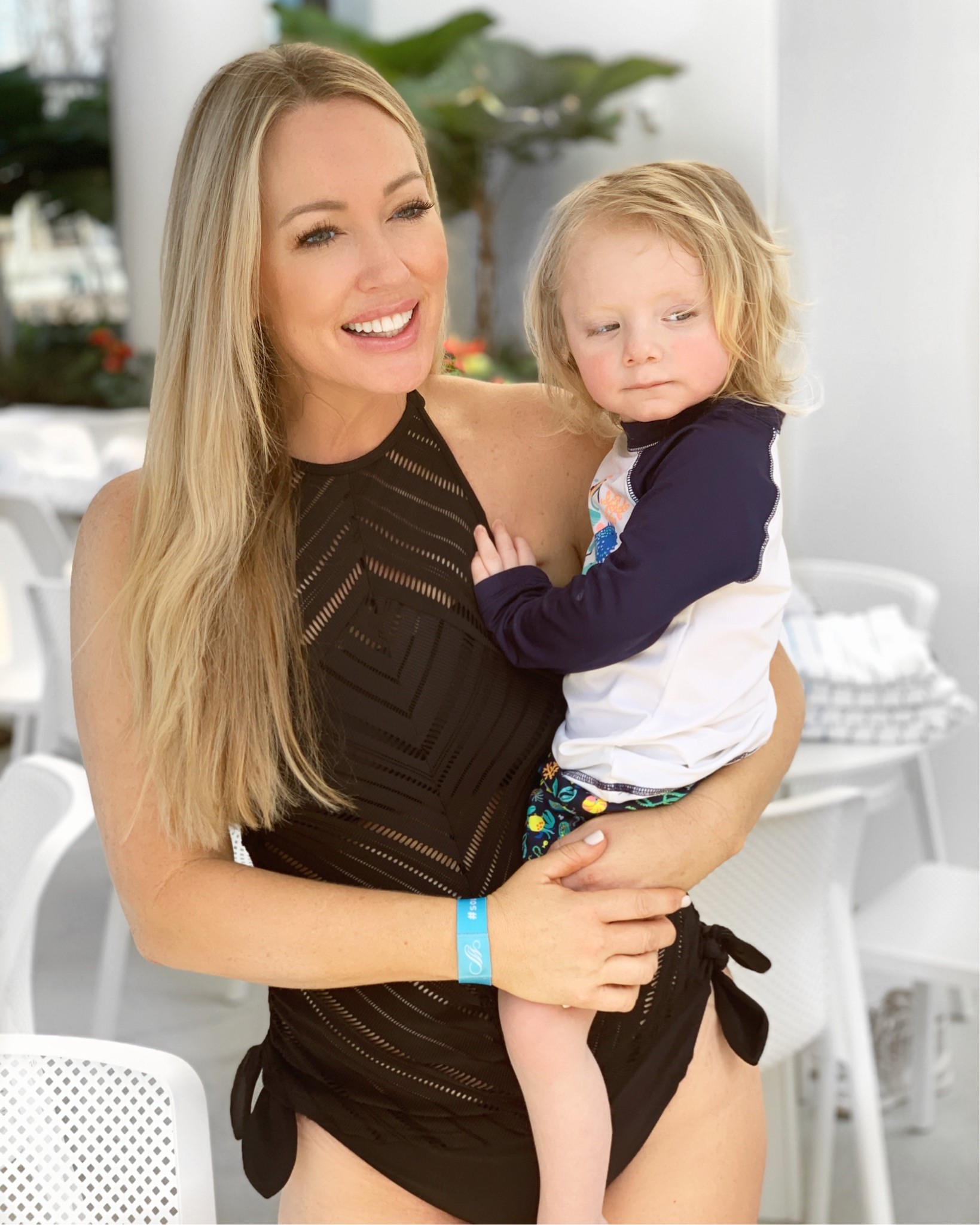 TODDLER SWIM SHIRT | TODDLER BOARD SHORTS
Cake by the ocean? How about make-up by the ocean…because bathing suits are outfits, right? For sure! There are so many cute ones out there, and when paired with the perfect shoes, hat, cover-up, and accessories, swimwear is a huge part of warm weather fashion. So, while you're looking so fresh in your swimwear style this summer, don't leave out the makeup products that can take your look up a notch. I prefer to stay with a natural look when headed out to the pool, or to the beach, but, I DO put my face on.
After sharing some pictures from our spring break adventure at the Opryland Hotel, and their water park SoundWaves, I received several questions about my makeup product choices and application. So, I'm sharing the list right here, along with how I apply each product, in week's episode of Beauty Tip Tuesday.
MY PRODUCTS
Niko Dual Foundation: This is my everyday powder foundation, but it's also perfect for pool side. Be sure to apply your SPF underneath, as well as your everyday moisturizer.
Urban Decay Brow Finish: Love this stuff! It's clear, but thickens the brows that you have for a nice natural look. It also holds those babies in place.
Becca Shimmering Skin Pefector: I apply this to my cheeks, nose, forehead and eyes. Yes, eyes! I love this highlighter for doubling as eyeshadow. It gives just enough natural color and shimmer to make your eyes pop by the pool.
L'Oreal Voluminous Waterproof: My favorite go to mascara is also made in waterproof. So, go for it. Apply it all over those lashes and swim those laps!
Burt's Bees Tinted Lip Balm: My very favorite lip balm. It's got just enough color for laying by the pool for beautiful natural looking smackers.
---
WATCH, LEARN, and ENJOY
---
BYLYLY- Bethany Sharp