Who doesn't love clothing that is versatile? I sure do! One of the best ways to get the biggest bang for your buck out of your clothing, is by buying items that can be mixed and matched throughout your wardrobe, as well as buying items that can look great a little dressy or a little casual.   And if an item is pricey, you definitely want to wear it as much as possible, right?   Versatile items don't have to be boring either.  Often, we think versatile equals neutral.  Neutrals are great, I love neutrals, but versatility doesn't mean you have to have a closet full of only black, white, tan and gray.  If you like some color in your wardrobe, versatility can still be your friend.  It's more about how you style an item, not the color.
The suede moto jacket that I'm styling in this post is gorgeous and bright!   It was love at first sight for me.  I just couldn't pass up that color.  It was a little expensive, but I knew immediately it would look good with lots of things, and I could play with it's style several different ways.  Plus, did I mention the color!  It's got that holiday vibe…….perfect for the orange tones of Thanksgiving, but also perfect for the beautiful reds of Christmas. The blend of red and melon is striking!
So, I wanted to share with you two of the looks I put together for this jacket, and more importantly, show you how it doesn't take an entire outfit change to play with style.  A simple switch of pants, shoes and bag can completely change a look, and even more, a vibe.
LOOK ONE:
I love this outfit because, as you may know from reading my "Livin' Sharp Style" post, I'm a sucker for an edgy look.  And this look is just that, with the black, suede, over the knee boots and the faux leather Spanx leggings. Yep, Spanx!  These things are amazing.  They keep it all tucked in, ladies, while still looking cute!  With a nice heel on the boots, and dressier than average hand bag, this look leans a little dressy.  It would be a cute date night, out to dinner, outfit.  Very different from the next look I'm about to show you.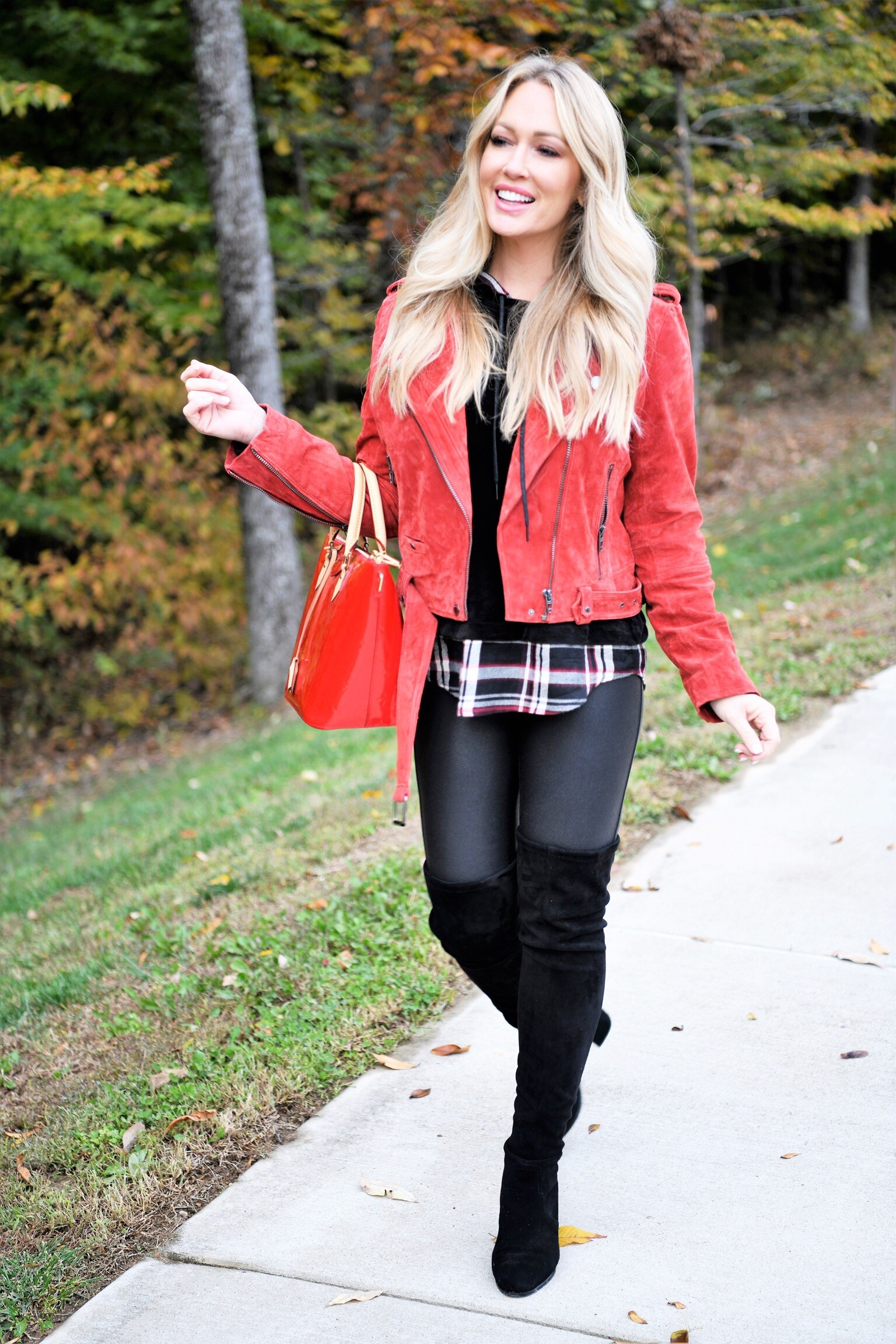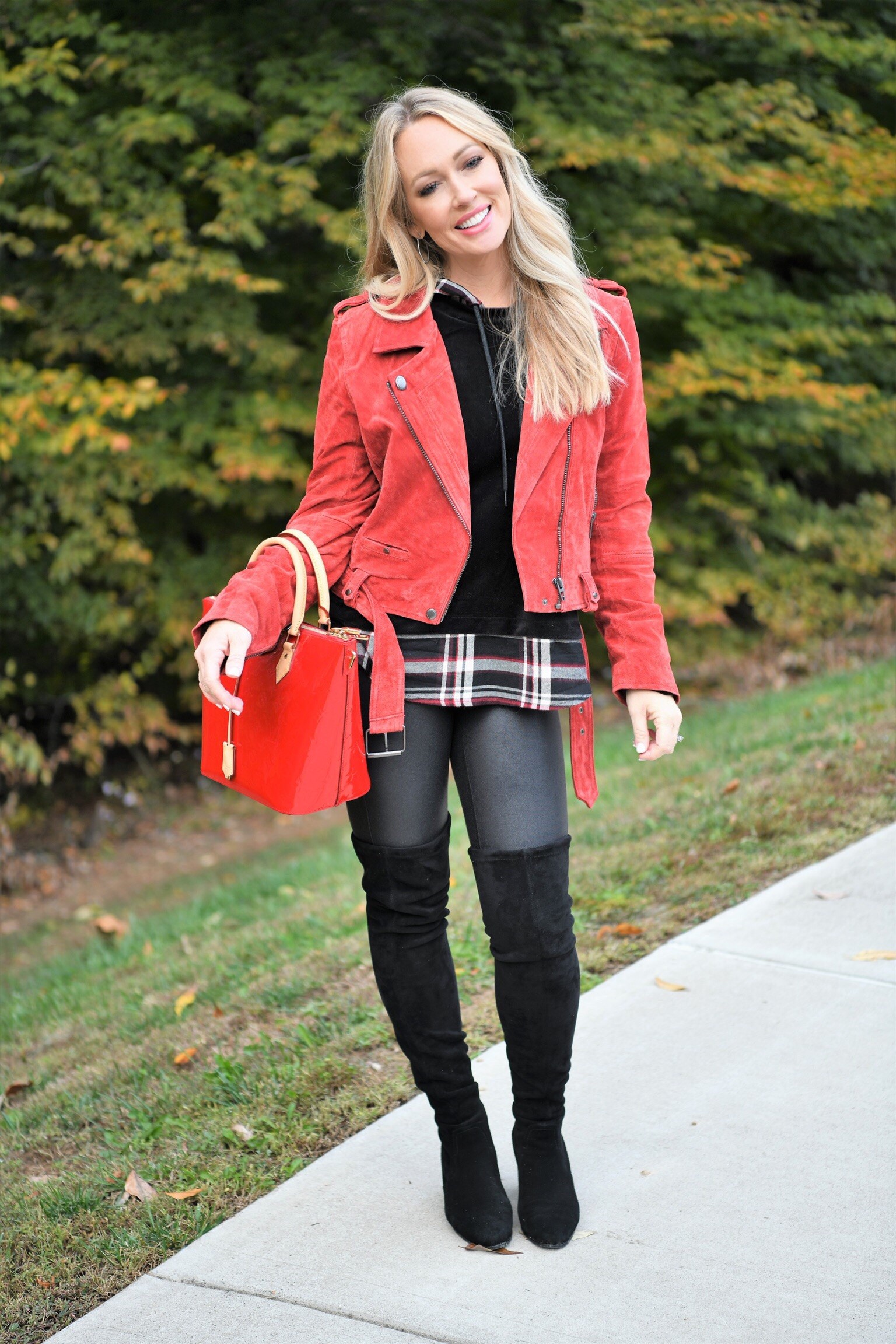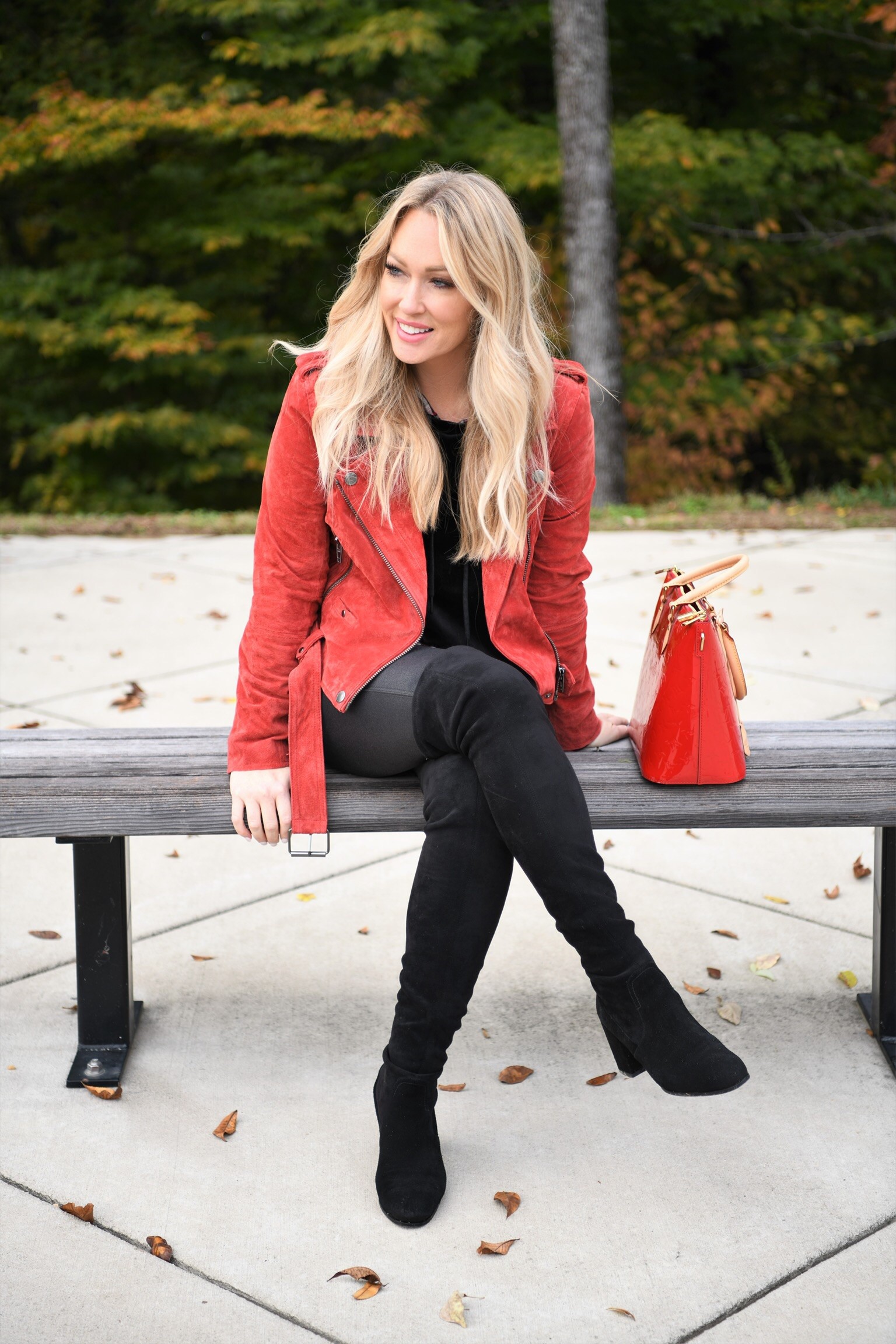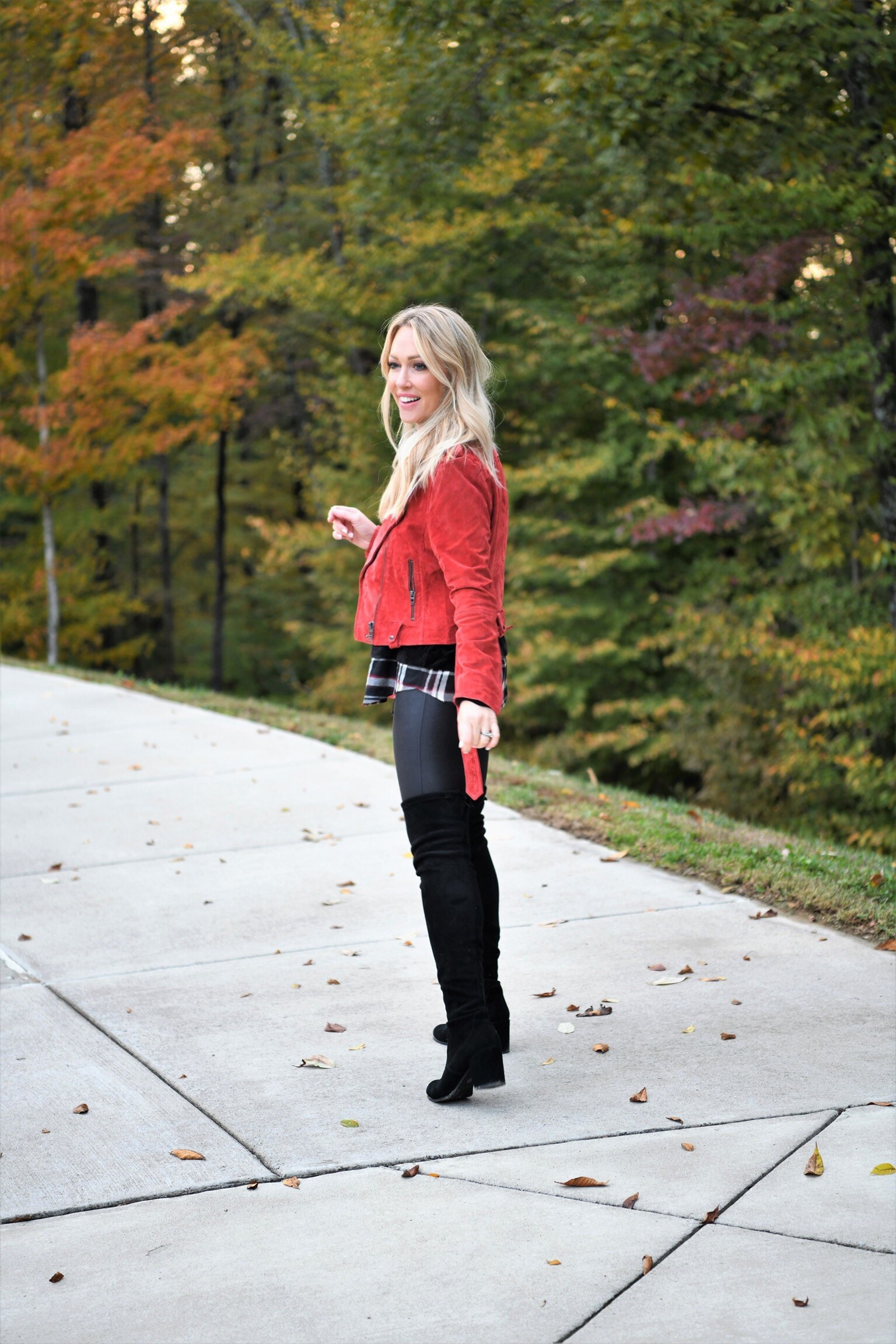 LOOK TWO:
Now, for look #2, all I did was throw on some white jeans, slip on sneakers, and drop the dressy bag.  It's a completely different vibe you guys! On this day (hence the title, "Same Shirt, Different Day"…..keeping it clean), the family and I went to this adorable little coffee house and café in Franklin called Coffee and Coconuts.  What a great place!  We did some window shopping around this area as well. There are so many little "all in one" neighborhoods with great restaurants and stores popping up in Franklin.
Back to the outfit.  This was the perfect outfit for window shopping and coffee sipping.  A simple pair of jeans, and some slip on sneakers, make this jacket and same velvet top look way more relaxed and casual. That's all it took.  I even felt more relaxed.  That's my vibe here.  I felt it, and you can see it.  Oh, and I dropped the dressy hand bag and traded it in for a slouchy shoulder bag.  A slouchy shoulder bag or tote is often an easy way to make an outfit more casual.  A cross body bag would take it down even more.  And let me mention, there is no need to shy away from white just because it's not the spring/ summer season anymore.  Remember that old rule, "no white after Labor Day"?  Not any more…..white is hot, all the time!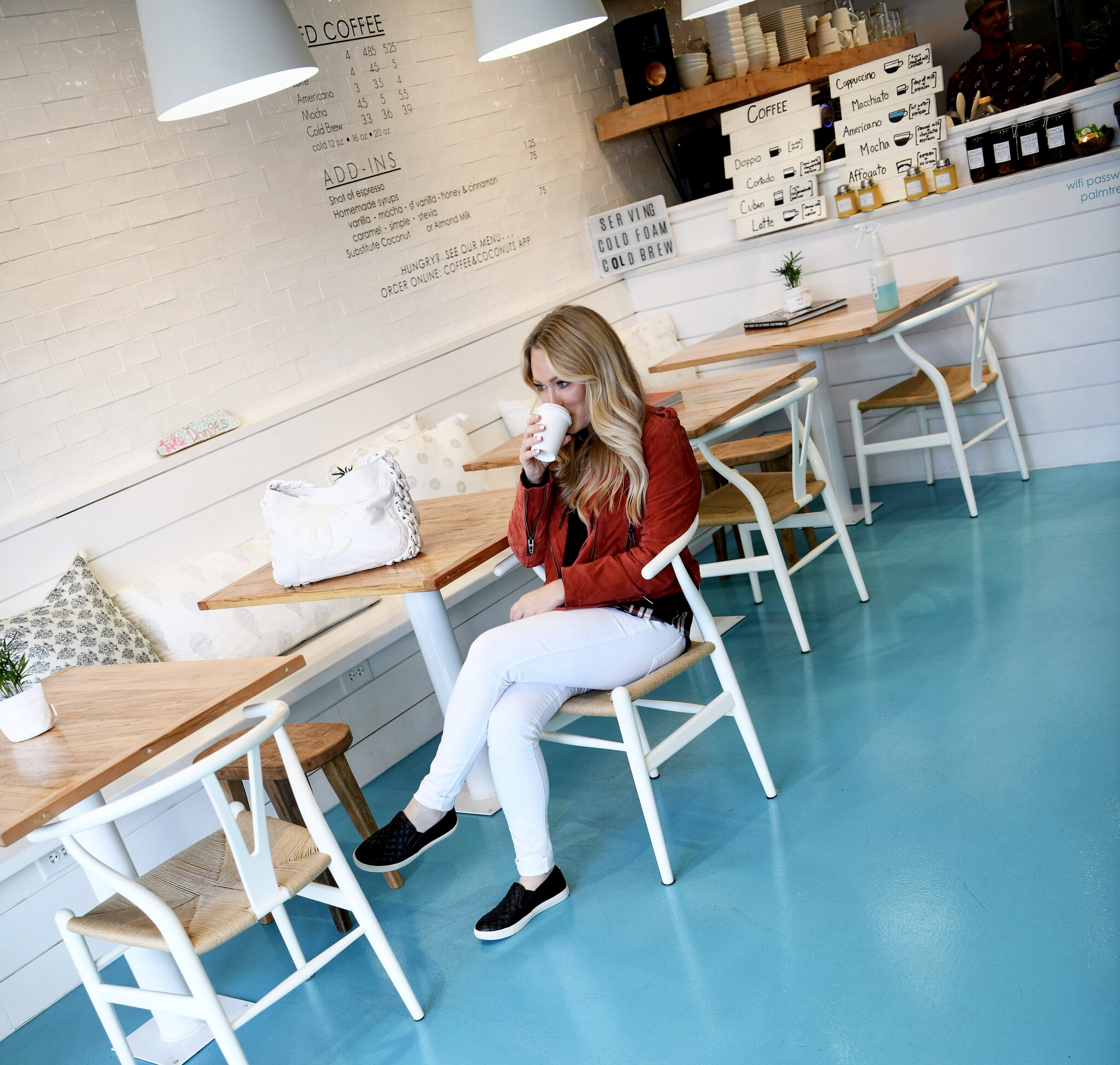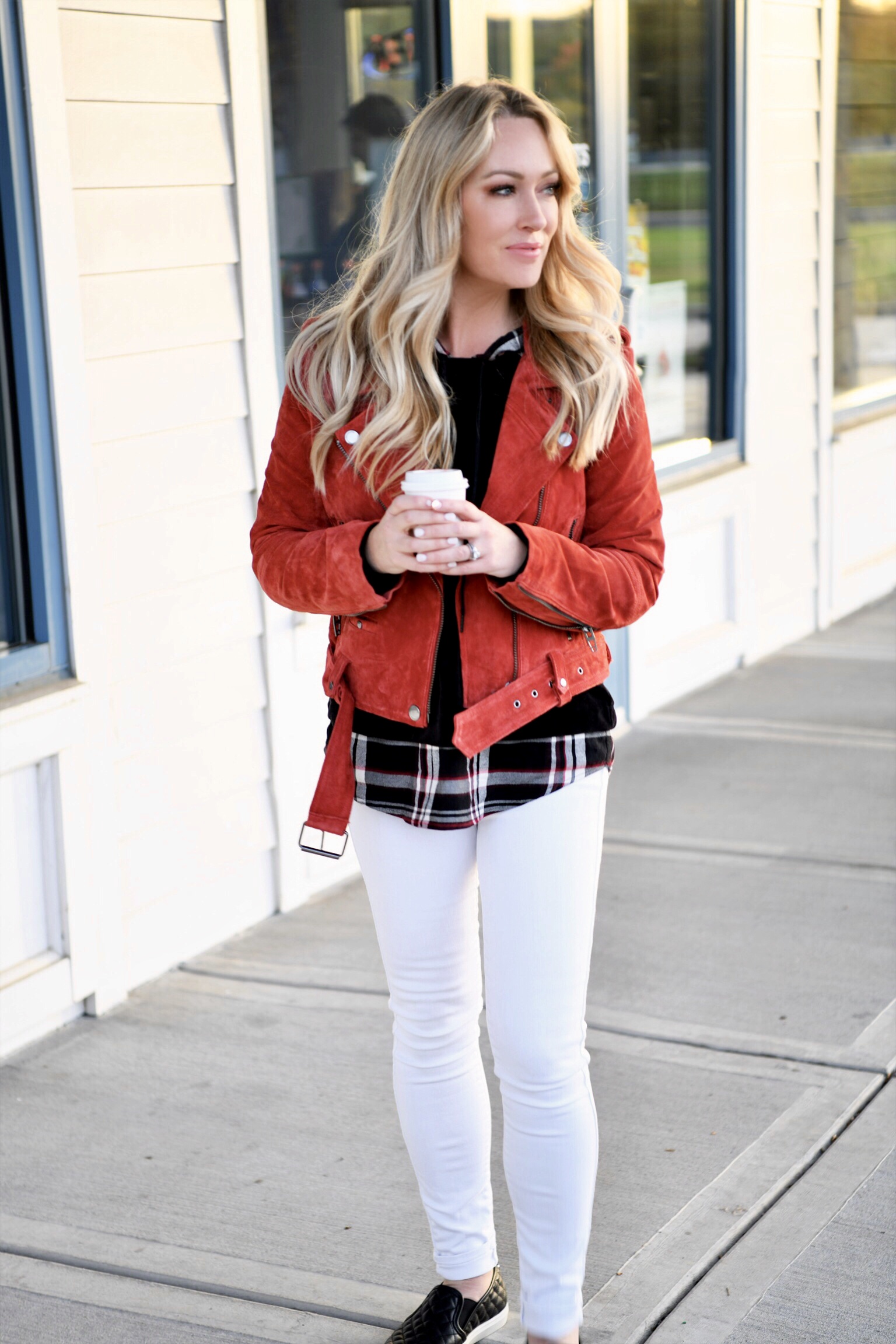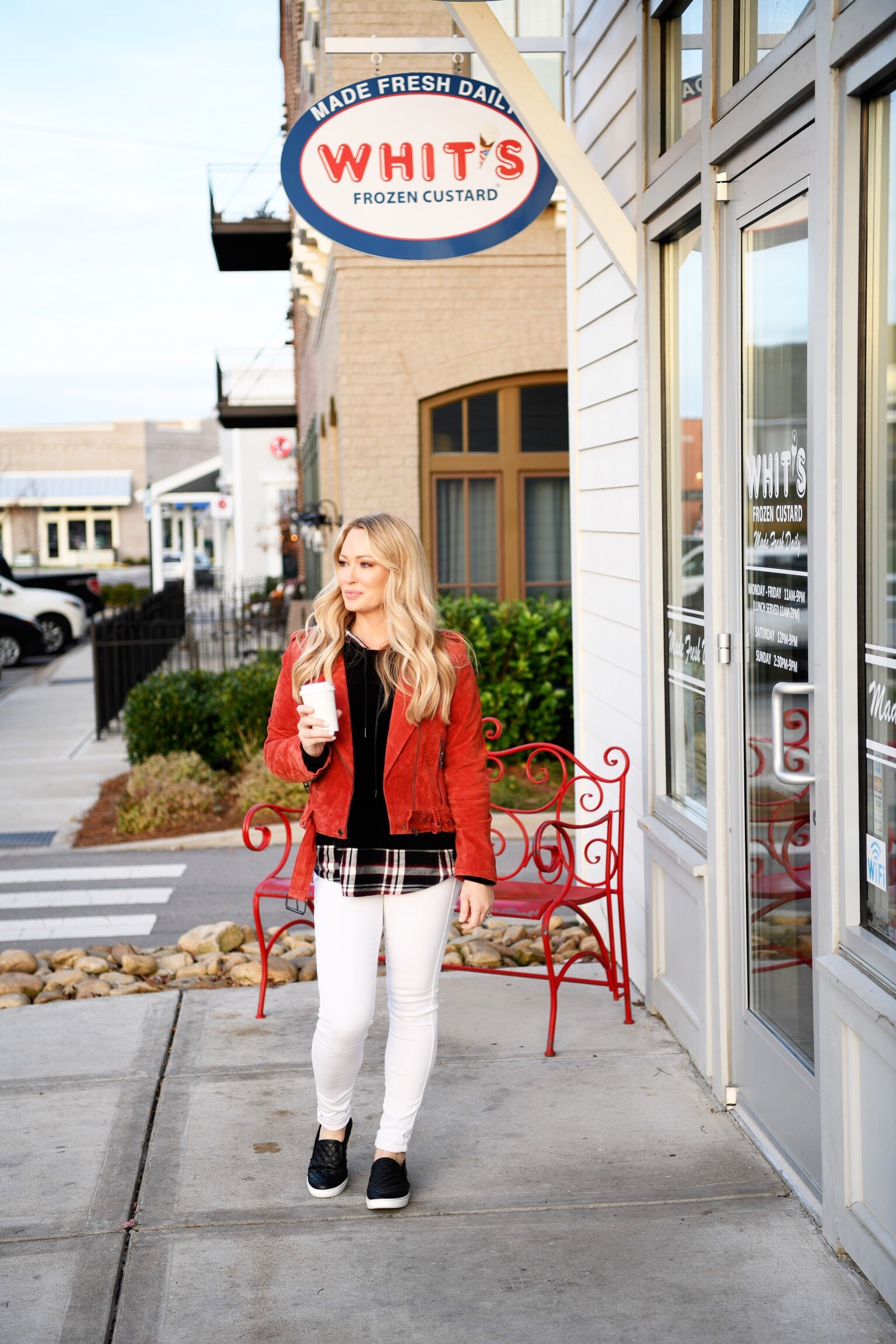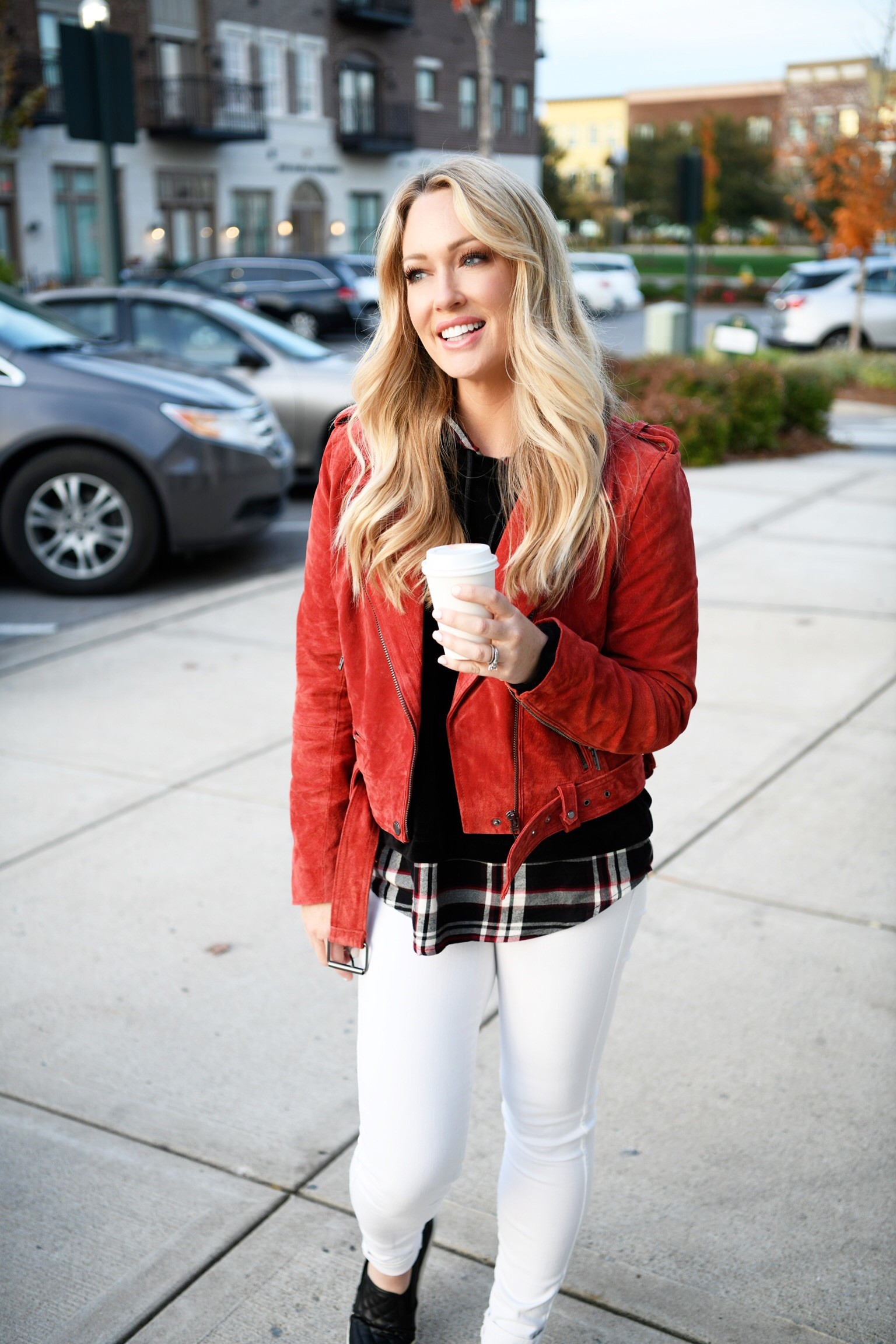 So, now that you've seen how I've done the "versatility thing", I bet you have a bunch of items in your closet that you can simply make look and feel new just by changing up what you normally pair together!  Shoot me an email or a comment! I'd love to hear, or see, how you changed up an outfit, and your vibe, with something you tend to wear the same way every time.
BYLYLY- Bethany Sharp